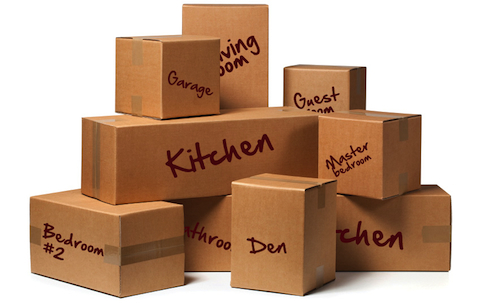 Moving your entire household is definitely a challenge. It takes a lot of effort and time to organize your specific relocation. There are numerous things that should be taken into account and handled. That applies especially to packing which is one of the most important things when it comes to moving. Simple packing tips for moving to a new house will save you time, effort and maybe even money.
Packing is an essential process during relocation. It prevents your household items from damage and ensures a safe move. Understanding the basic principles of packing different items which include the fragile ones, electronics, heavy items (piano, fridge etc.) will save you from all the hassle.
In our blog, you will find the best tips and advices for packing for a move which will help you to avoid disappointment and frustration during the relocation. It's vital to have an information on how to pack your things right. Some of them, especially the heavy ones require dismantling before packing. This step should only be carried out by the professionals in order to avoid injuries or damages. Tips for packing when moving a house should be taken into account, especially if don't have a moving experience.
How To Pack When Moving A House
Packing your household items can be very difficult task. However, the following tips for packing to move a house will the whole moving and moving related processes so much easier and more efficient.
Make the decision. First thing you need to do is to decide whether you are going to pack the things yourself or hire professionals. Of course, the first option is more budget-friendly, but choosing to hire professional packers and movers providing packing sevices in USA guarantees you safe and fast relocation. Furthermore, professional packing companies have proper equipment and packing materials for every item.
Packing quickly. It's vital to choose only essential things you will be taking with you. Don't pack the items you won't need anymore and throw them away. By using this packing advice for moving you will significantly decrease the number of things to pack for the new place.
When to start packing? The answer is perfectly clear – as soon as possible. The sooner you start packing your things the better. Once you confirmed the move you should start the necessary preparations.
Packing supplies. Choosing proper packing supplies is a crucial step. There is no single move can be carried out without using such packing materials as tape, moving padding, packing paper and boxes. Packing moving boxes tips are essential when it comes to moving.
Safety measures. Of course, you want your things to reach the destination safely. That's why it's important to inspect the moving boxes for any damages like water damage and reject the ruined ones. Also, it's wise to secure additionally the bottom and sides of each box to prevent possible damages. Consider reading our article on how to prepare for a move.
All the above-mentioned tips on how to pack when moving will definitely help you during house relocation. Knowledge is a power.
As you can see packing your entire household has its peculiarities. The security of your belongings depends directly on your level of preparation regarding packing techniques. Feel free to pack the things by yourself if you have an experience in this field. If not, it's better to hire professionals who have proper equipment, materials and the expertise to provide reliable and fast packing and moving services.